The Gulf of Bothnia 2014
Completion of the project started in 2011 to paddle around the Gulf of Bothnia
Expedition details
Paddling around the northern part of Gulf of Bothnia (this part is often called itself Bothnia Bay). The idea came into being gradually. When I was circumnavigating the southern part of Gulf of Bothnia I didn't intend to paddle around its northern part. It was to be a kind of test before a more difficult expedition. As it turned out its northern part became again a test, this time for my shoulder after a serious injury.
The route: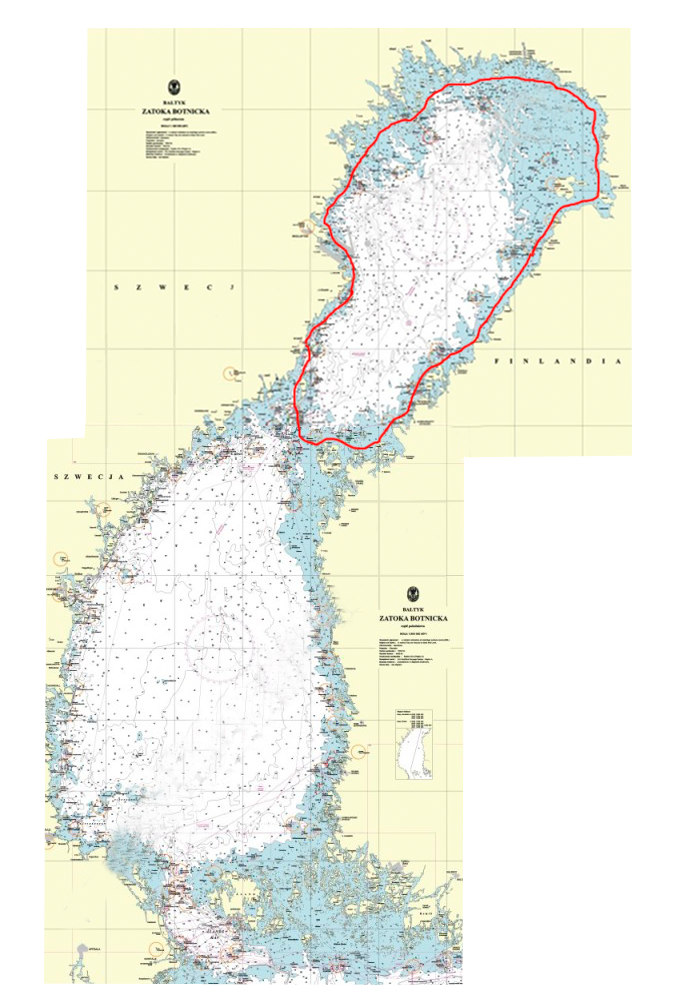 Starting point - a small village Ratan north of Umea and Vastra/Ostra Kvarken straits. Jumping over to Finnish side over Vastra and Ostra Kvarken and to Bjorko Island. Then to the north along Finnish and south along Swedish coast back to Ratan. Usually I paddled far from mainland, headland to headland, island to island. The northern edge of Bothnia Bay offers a lot of beautiful islands, especially on the Swedish side. These are quite often, unlike Finnish side, unspoilt by cottages, remote and pristine. The island which impressed me most is Hindersoharun St. Having a walk there you can't help feeling as if the glacier has just retreated and the world of plants is only now slowly encroaching on the barren moraine rubble.
Night on Sorgadden before crossing over Ostra Kvarken: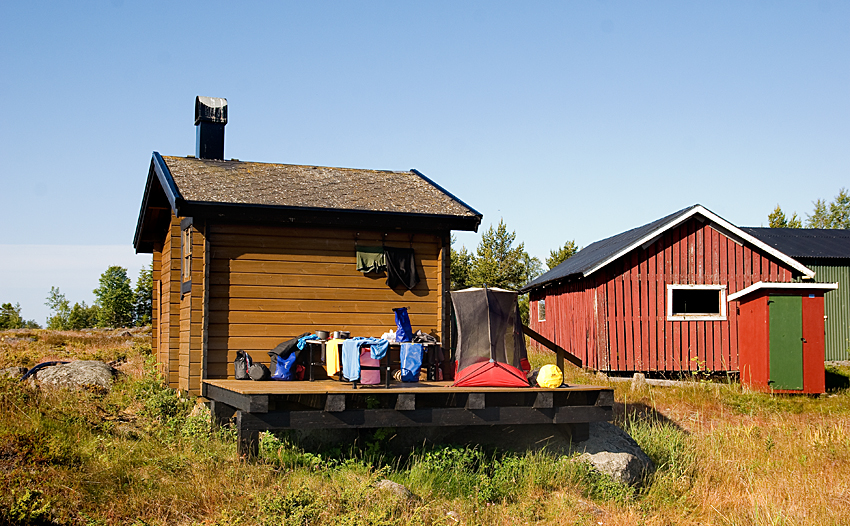 After crossing Ostra Kvarken on Bjorko Island: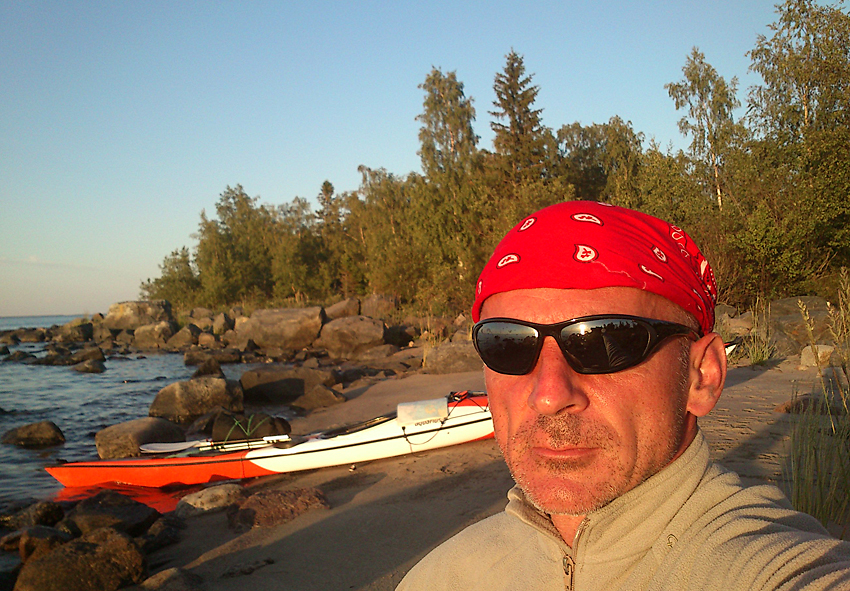 I recommend wholeheartedly the islands in the north on the Swedish side. They are beautiful. I also recommend the Swedish coast except about 70 kilometres around Skelleftea. A huge metallurgical plant located there destroys the beauty of nature and you can smell it 20-30 kilometres away! The Swedish coast is built mainly of huge, granite rocks. Stuck between them there are small sandy or gravel beaches. It creates a picturesque landscape. The Finnish side disappointed me a bit. Of course there are nice bunches of islands but usually "overcrowded" by cottages. In the north the sea becomes very shallow. You can get out of your kayak and do a bit of stretching 2-3 kilometres from the shore. If the bottom is sandy it's not that bad but usually you can't approach the shore because the way is blocked by hundreds, thousands of boulders. It looks like a rocky scrap-heap. The worse is the area of Hailuoto island.
Finnish coast in the north - my mobile phone didn't like it either and as a result refused to work properly (I have to apologise for the quality of this photo but it shows well what I mean writing about this part of coast):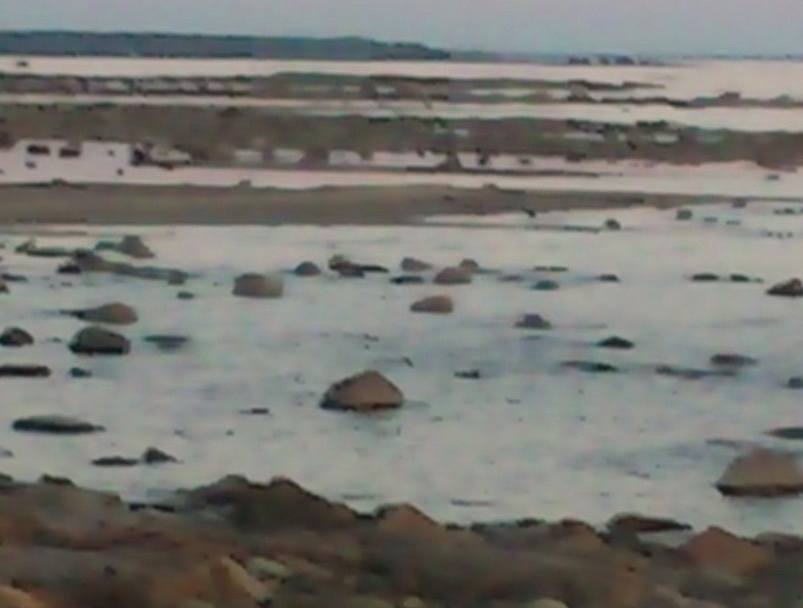 And to show the difference Swedish side in the north: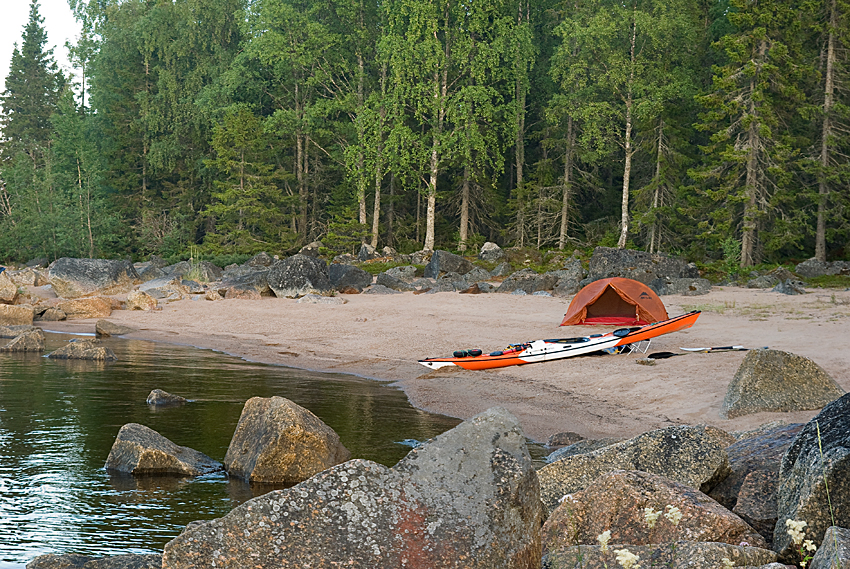 A bit more to the south: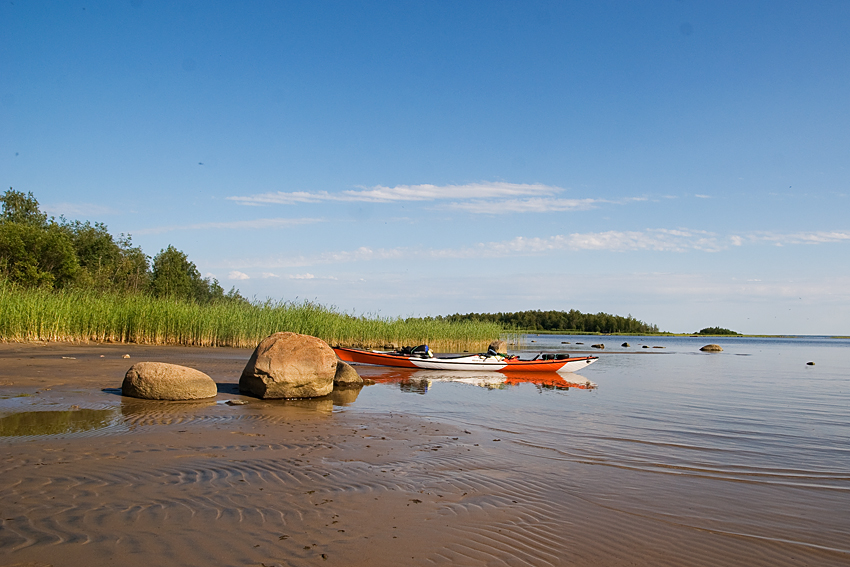 Numbers:
Distance covered - 872km
Time - 18 days
Average per day - 48,5km
The longest distance in a day - 60km
The shortest distance in a day - 30km
Escaping the coming storm - within a couple of minutes the sea transformed into raging fury: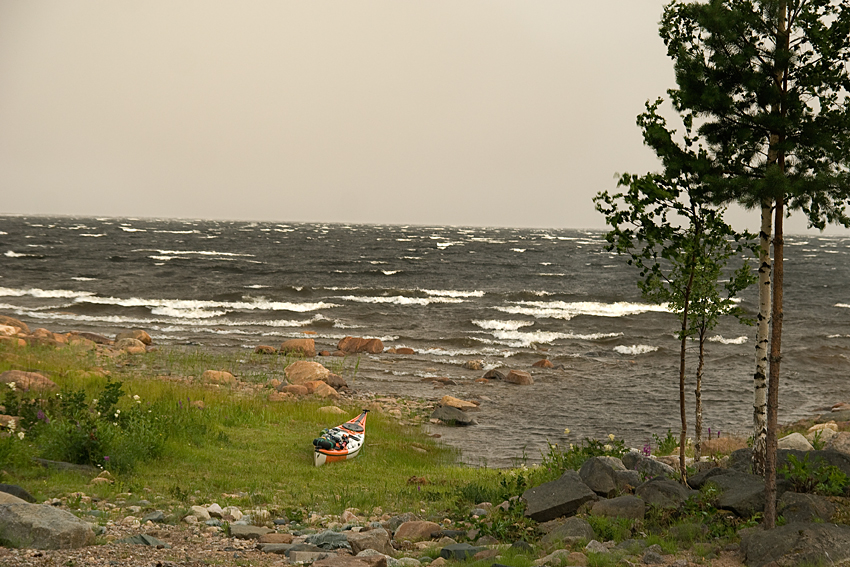 On the Finnish side twice I had no other choice but to land on the shore where there were prepared kind of "approaches to small harbours" in front of cottages. Here I am drying clothes after a downpour. The weather was like in Poland, sunny and scorching, but because of the heat, regularly cumulonimbus clouds built up and that resulted in violent storms and gales: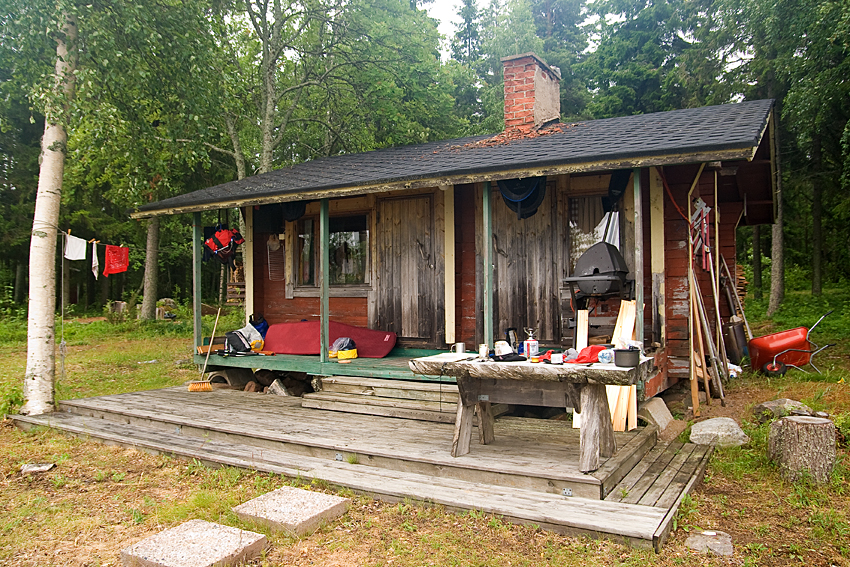 Equipment
Kayak Sea Lion made by:

Sea Lion is not as big as Sea Dimension (I used it during the southern part). It is a kayak without a rudder but with a skeg instead and has a flat bottom - so called British Style. Its hull is designed to meet very challenging conditions like rough sea, breaking waves or rock gardens. I tested it in difficult conditions before setting off and it worked perfectly. Nevertheless, I wasn't sure whether it would turn out to be a good expedition kayak. I was to be self-sufficient, so needed a lot of room in its compartments to carry all but fresh water for 20 to 25 days. On such trips you are also a subject to day-long, wearing you down side winds and waves. Quite often everything seems good after 1 or 2 days, but you change your mind after 10 or 15 days of paddling. Well, I can honestly say that it worked perfectly. Good, strong materials - no need for repairs. Now Sea Lion is my favourite kayak. My wife will get a LV one!
The sunsets occurred at around 23:00 - 24:00 depending on the latitude and date. I couldn't sleep subject to the sun as early as 4:00 - 5:00: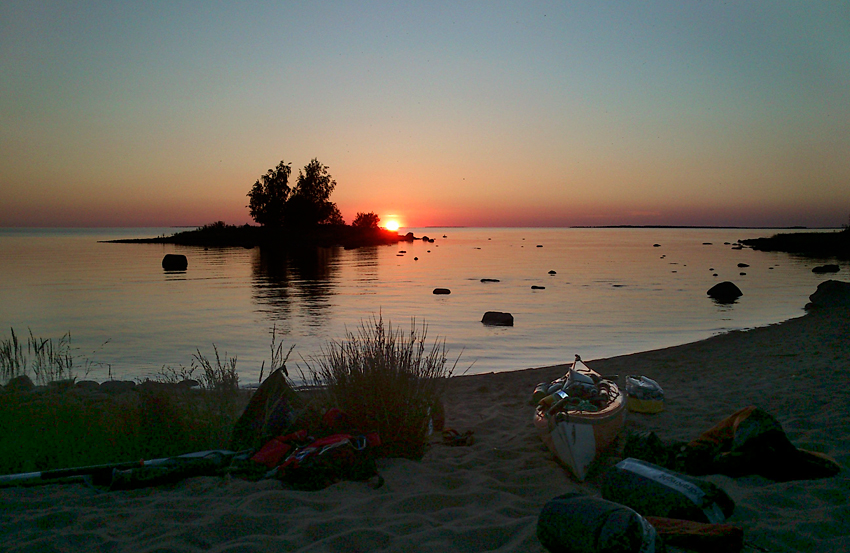 All safety, navigation, weather forecast etc. issues like in 2011 - during the southern part. To protect the electronics I used Overboard waterproof cases and thanks to that I had no problems. I also put into the cases small silica gel bags. They absorb moisture and don't let it precipitate on front panels of the cases which when happens obstructs our ability to see electronic readings.
The overall distance covered is 2020 kilometres - a very special number (please believe no manipulation on my part here - I was also surprised)!!! The northern part turned out to be 276 km shorter than the southern one. My estimate before the trip was around 900 km.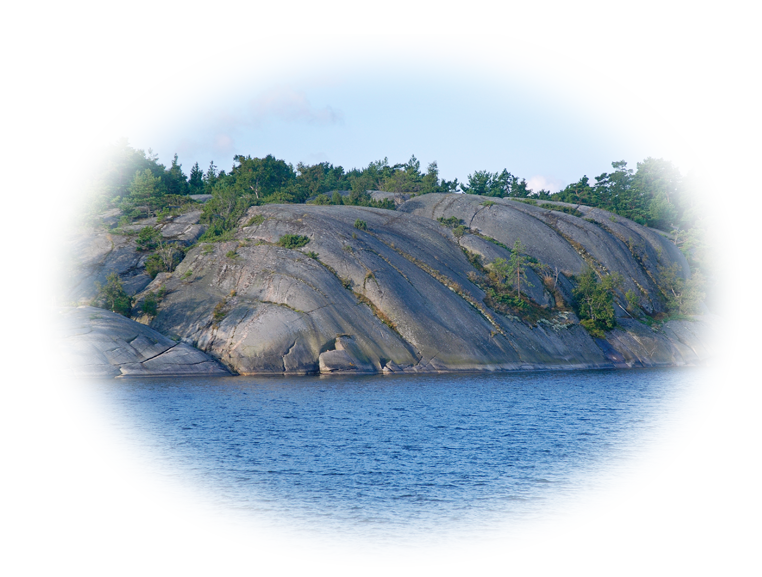 This time no photo gallery. To take pictures I used my mobile phone - pure documentary purpose.
---